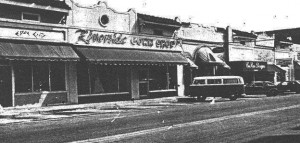 The Park Arcade Building was one of the first commercial buildings constructed in 1928 in the Five Point's area. This building consisted of seven buildings in one. The building style is Mediterranean and each building is depicted by a different rooftop. The picture to the left shows the different rooftops. The Park Arcade building sets the tone for the Five Points area. By the end of 1928, Five Points had twenty completed businesses.
In the 1930, a craze for miniature golf swept the country. Here in Jacksonville Five Points was the first to build an indoor-outdoor golf course. The first two stores in the Park Arcade Building 1017-1019 Park Street housed the first indoor-outdoor miniature golf of Florida called Five Points Miniature golf course. Back in those days Miniature golf was one of the few sports you can do after work and did not have to dress up. The game was inexpensive and allowed you to exercise while getting fresh air. At Five Points, the game started inside, while the middle portion was played outside, and you finished the ending portion inside. The highlight of the game was a water obstacle. The game was so popular they had tournaments that gave away up to $200 in prizes.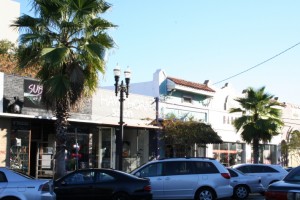 The picture  shows the Park Arcade Building today.
By the end of 1928, Five Points had completed twenty businesses in the area. Some of the businesses were businesses such as Arcade Cash & Carry, Southland Ice Cream Parlor, Gulf Gas Station, Lane Drug Store, and Attwood Pharmacy. Some of today's businesses are Nicotine, Anomly, Roost/Spruce, and Whalebone Grill.