A look into the past…
In the 1920's, Five Points began as a commercial district catering to the rapidly growing residential areas surrounding it. Although officially a part of the Riverside-Avondale Historic District, Five Points has evolved into one of Jacksonville's most vibrant urban core districts in its own right.
Five Points history is very colorful with a lot of stories, all in such a short time frame. The Five Points Theater has opened and closed many time during the 20th century. First show Jacksonville's first talking picture show to the most recent Club5 which closed shortly the 21st century started. The Park Arcade Building which many people know as the building that house Nicotine, Anomaly and Fuel was Jacksonville's first indoor/outdoor miniature golf course. For all the people that have been to Five Points many have notice the light post standing in the middle of three streets that make the Five Points. The light has gone through many changes itself over the past 100 or so years. Come and see the history for yourself as we show you what has really made Five Point into what it is today … Historic Five Points in Riverside.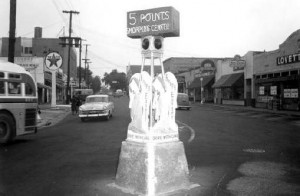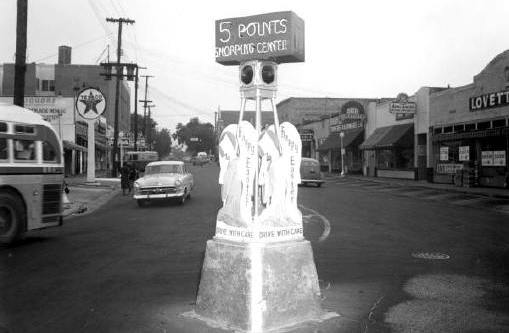 The picture to the right shows the Five Points intersection in 1953 decorated for Easter with Angels. The Texaco Gas Station is now The Derby House Restaurant. Fan's and Stove's Antique is now where Lovett's grocery store is in this picture. The picture below it shows the Five Points intersection as you see it today. As you can see the five points, shopping center sign has been removed and the keep right signs have been placed over the mosaic tiles.
Find more when you visit!